Pressure Conversions Calculator & Technical Tips
Featured Product from Tecmark Corporation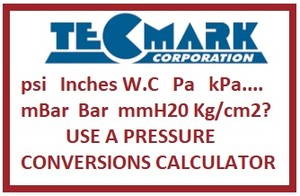 Kilopascals to Pounds per Square Inch, or kilogram force per square meter to Inches of water column? This instant calculator can help. And read valuable technical tips and information on pressure switches and integration.
Tecmark designs, develops and manufactures pressure switches, vacuum switches, air switches and other electrical components, including level sensors, thermostats, timers, spa side controls and more. For years, our specialty in air switch and pressure switch controls has helped us deliver hundreds of product variations to market segments worldwide. We provide options for OEMs' evolving products -offering interchangeable components allowing for design flexibility.
Let us know how we can help you.