Feedback System Improves Robotic Grasping Force
Featured Product from Tekscan, Inc.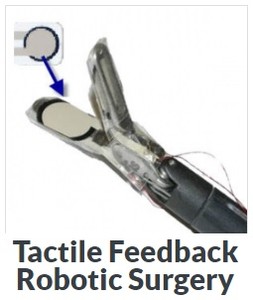 Tactile Feedback in Surgical Applications
In recent years, robots have become an increasingly viable part of minimally invasive surgery. They offer improved range of motion in laparoscopic techniques. The drawback has been that robots have lacked the sense of touch, or haptic feedback, that is so vital in many procedures, such as applying force to sutures.
Force Feedback System Improves Robotic Grasping Force
The Center for Advanced Surgical and Interventional Technology (CASIT) at UCLA's David Geffen School of Medicine is developing a pneumatic balloon-based tactile feedback system for an existing robotic surgical system. FlexiForce™ sensors mounted at the distal end of a robotic grasper proportionately translate pressures applied to the surgeon's fingers via balloon actuator arrays. Researchers have already demonstrated a reduced grasping force using this system. More information about this project can be found at UCLA's website.
Benefits of FlexiForce™ Sensors
Ultra-thin sensor construction and flexibility means minimal interference/disturbance to normal action
Accurate response gives your customers and end users confidence in the performance of your product
Knowledgeable, experienced technical staff help you develop the most effective, economical sensor based on your specific requirements. All manufacturing takes place at ISO 9001 compliant & 13485 registered Tekscan headquarters.
100% factory inspection ensures your sensors meet established performance specifications