Teleynde Imaging at Vision China Shanghai
Featured Product from Teledyne DALSA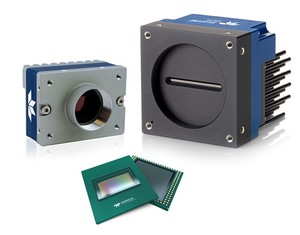 Shanghai, China – March 6, 2019 – Teledyne DALSA and Teledyne e2v, both Teledyne Technologies [NYSE: TDY] companies are pleased to announce their combined presence as Teledyne Imaging at Vision China Shanghai 2019. Located in the Shanghai New International Expo Centre, the companies will display their most advanced vision solutions in booth W5-5100, from March 20-22, 2019.
Teledyne e2v will highlight the following CMOS image sensors:
The following Teledyne DALSA cameras will be on display:
Visit the Teledyne Imaging booth to find out more about how the latest advancements in smart sensors and cameras are helping to revolutionize machine vision. Visitors will be able to see live demos of the CMOS image sensors 3D Bora and Lyra, Snappy and Emerald.
Teledyne Imaging is a group of leading-edge companies aligned under the Teledyne umbrella. Teledyne Imaging forms an unrivalled collective of expertise across the spectrum with decades of experience. Individually, each company offers best-in-class solutions. Together, they combine and leverage each other's strengths to provide the deepest, widest imaging and related technology portfolio in the world. From aerospace through industrial inspection, radiography and radiotherapy, geospatial surveying, and advanced MEMS and semiconductor solutions, Teledyne Imaging offers world-wide customer support and the technical expertise to handle the toughest tasks. Their tools, technologies, and vision solutions are built to deliver to their customers a unique and competitive advantage.
All trademarks are registered by their respective companies.
Teledyne DALSA reserves the right to make changes at any time without notice.