Thermal imaging for fever detection in 2020
Featured Product from Teledyne DALSA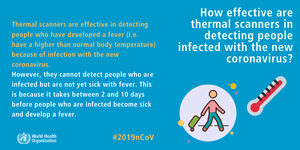 Taking some heat: Thermal imaging for fever detection in 2020. As government and business leaders start to talk about "returning to normal," and looking to thermal cameras to help, questions remain about "how," and whether the latest technology can help.
One proposed solution is thermal scanners. Unlike most medical imaging approaches, IR thermography doesn't require irradiation or expensive equipment, and presents no health hazard. Infrared radiation emitted from our skin can be detected, and with information about the ambient environment, used to to estimate core skin temperature and potentially detect who is running a fever. If someone has higher-than-expected skin temperature, they might be running a fever. If they are running a fever, that might mean that they have a disease. And if they have a disease causing the fever, it might be Covid-19, as this is a common early symptom.
If this seems a bit indirect, it is. Thermal cameras can't detect a virus or specific infection. Makers of thermal camera systems and medical experts have had to repeatedly remind people that they can't be used as such. Continue reading.