Lm11059 11 Megapixel High Resolution Camera
Featured Product from Teledyne Lumenera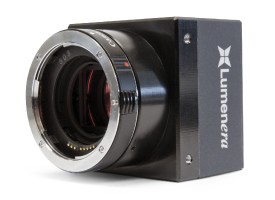 Lumenera Corporation, www.lumenera.com, a leading developer and manufacturer of high performance digital cameras and custom imaging solutions today introduced the launch of its new small form factor 11 megapixel USB 2.0 digital camera for industrial and scientific imaging applications. The Lm11059 features the quality Kodak KIA-11002 CCD image sensor, 4008 x 2672 resolution, large dynamic range of up to 66dB and selectable 8 or 14-bit data output, providing exceptionally high resolution and sensitivity.
Equipped with interline transfer, progressive scan, fully global electronic shutter and a short image integration time, this 35 mm large format camera captures high-speed motion images with zero chance of blur without compromising the image integrity. Integrated lens communication hardware provides full control of Canon EF bayonet lenses for focus and iris. The lightweight Lm11059 offers a compact, sleek design measuring 76.2 x 76.2 x 82.6 mm, affording versatility for your vision application where both space and weight are important considerations.
The Lm11059 is suitable for hostile industrial environments where the camera is continuously under mechanical stress. Traffic monitoring, automated License Plate Recognition (LPR) and flat panel inspection are also ideal applications for this industrial-grade camera. The scientific-grade option (-SCI) is built under a strictly controlled environment to ensure no visible defects are found in the optical path. This is a key requirement for applications using collimated light sources including high resolution documentation and ophthalmology.
"The Lm11059 offers the unique combination of the KAI-11002 sensor paired with USB 2.0 technology." said Dany Longval, Product Manager at Lumenera Corporation. "Additionally, this camera also offers a wide selection of characteristics including specifically designed software to control focus and iris for standard Canon EF bayonet lenses, and a selectable 14-bit ADC data output allowing for more quantitative image analysis."
Full streaming uncompressed video and still image captures are easily controlled through a set of stable and reliable USB device drivers. The fully locking USB 2.0 cabling, Hirose GPI/0 connector and digital interface guarantee an effortless plug-and-play installation.
Both the industrial and scientific-grade Lm11059 are now available in either color or monochrome. Visit the Lumenera website at www.lumenera.com for more information on this product and our custom OEM imaging solutions.
About Lumenera
Lumenera Corporation, a division of Roper Industries, and headquartered in Ottawa, Canada, is a leading developer and manufacturer of high performance digital cameras and custom imaging solutions. Lumenera cameras are used worldwide in a diverse range of industrial, scientific and security applications.

Lumenera solutions provide unique combinations of speed, resolution and sensitivity in order to satisfy the most demanding digital imaging requirements. Lumenera customers achieve the benefit of superior price to performance ratios and faster time to market with the company's commitment to high quality, cost effective product solutions. For further information about Lumenera, please visit www.lumenera.com or call 613-736-4077.