INFINTY2-1R 1.4 Megapixel CCD Camera
Featured Product from Teledyne Lumenera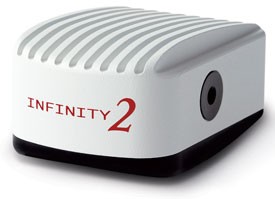 Lumenera Brings to Market the Newly Engineered INFINTY2-1R 1.4 Megapixel CCD Camera
Microscopy camera offers 14-bit data output and low dark current noise
Neuroscience 2011 - Washington, DC - November 14, 2011 - Lumenera Corporation, www.lumenera.com, a leading developer and manufacturer of high performance digital cameras and custom imaging solutions today introduced the newly redesigned INFINITY2-1R USB 2.0 microscopy camera, engineered for documentation and image analysis in life science, clinical and material science applications where higher resolution and excellent sensitivity are routinely required.
The re-engineered INFINITY2-1R offers a significant performance increase for quantitative and low-light applications over its predecessor. Reduced operating temperatures combined with a much higher dynamic range and 14-bit data output have resulted in a versatile entry-level research camera. The INFINITY2-1R easily manages seconds of exposure time with a dark current rating of less than 1 e-/s.
For lower light applications the Sony HAD ICX205 CCD sensor has a high dynamic range of 64 dB, allowing users to image unevenly lit samples without worry, resulting in excellent camera sensitivity. The resulting images show detail in bright and dark areas not normally seen in lower dynamic range cameras. Advanced thermal management allows for long exposure times of several minutes without the need for a higher priced cooled camera.
"Our imaging experts have re-engineered Lumenera's 1.4 megapixel CCD microscopy camera, enhancing the performance by reducing the read out and dark current noise." says Shari Anne Bordeleau, Director of Channel Sales, Lumenera Corporation. "The INFINITY2-1R also offers superb color reproduction in clinical stained samples, as well as 6 customizable color correction matrices to adjust the output dependent upon different light sources and microscopes being used. For an uncooled camera, these enhancements bring this camera into a league of its own."
INFINITY CAPTURE, an intuitive image capture program, and INFINITY ANALYZE, a full image analysis package offering; camera control; measurement; annotation; tiling and post capture enhancement, are both included. Sharing and installation of one or more cameras on a single computer is quick and simple through a high-speed USB 2.0 interface.
INFINITY cameras are integrated into a variety of third-party software packages through direct drivers or with TWAIN/DirectX support. A Mac camera driver and ImageJ plug-in are available for the INFINITY2-1R.
The INFINITY2-1R camera, available in color or monochrome, is now available. Contact info@lumenera.com with your imaging requirements or visit the Lumenera website at www.lumenera.com for more information.
About Lumenera
Lumenera Corporation, a division of Roper Industries, and headquartered in Ottawa, Canada, is a leading developer and manufacturer of high performance digital cameras and custom imaging solutions. Lumenera cameras are used worldwide in a diverse range of industrial, scientific and security applications.
Lumenera solutions provide unique combinations of speed, resolution and sensitivity in order to satisfy the most demanding digital imaging requirements. Lumenera customers achieve the benefit of superior price to performance ratios and faster time to market with the company's commitment to high quality, cost effective product solutions.