Lm135 1.4 Megapixel USB 2.0 Camera
Featured Product from Teledyne Lumenera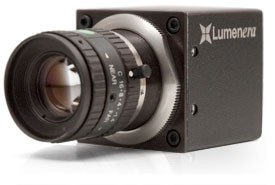 Lumenera's new Lm135 mini CCD USB 2.0 megapixel cameras are designed to be used in a wide variety of industrial and scientific applications, particularly those with low light conditions and tight space constraints.
Measuring 44x44x56mm, these compact cameras offer the same performance as our enhanced USB 2.0 camera line, delivering outstanding image quality and value. Features include new locking industrial mini USB and RJ45 GPI/O connector, multiple mounting points, 60 fps at full 640x480 resolution, 100+ fps at 320x240 binning mode, and on-board processing and sensitivity provide outstanding image quality. Both color and monochrome product models are fully supported by the Lumenera Software Developer's Kit with an application programming interface compatible with C++ and Visual Basic.
Features:
Small form factor measuring 44x44x56mm
High quality CCD sensor
Locking industrial mini USB and RJ45 GPI/O connector for control of peripherals and synchronization of lighting
3 software configurable bidirectional I/O ports and 2 optically isolated ports (1in/1out)
Based on Lw camera platform with 32MB RAM
Excellent sensitivity with high color fidelity
Simplified cabling - video, power and full camera control over a single mini USB cable
Color or Monochrome, Interline transfer
Progressive scan, 1.4 Megapixel CCD sensor
Binning and Region of Interest (ROI) options improve sensitivity and provide higher frame rates
Select 8 or 12-bit pixel data
8 mounting points
FCC Class B, CE Certified
DirectShow compatible
USB cameras are software compatible with Windows™ 98 SE, Windows ME, Windows 2K, Windows XP, and Windows Vista operating systems
Complete SDK available
Full one (1) year warranty
Specifications:
Image Sensor: 1/2" format, color or mono, 6.5mm x 4.8mm array
Effective Pixels: 1392x1040, 4.65µm square pixels
Frame Rate: 15 fps at 1392x1040, 30 fps with binning (2x - 4x)
Sensitivity High Dynamic Range: 60dB
White Balance: Manual
Exposure: Manual
Dimensions (W x H x D):44x44x56mm
Mass: TBD
Power Requirement: USB bus power or external 5VDC, 500mA
Power Consumption: ~2.5 Watts
Operating Temperature: 0°C to +50°C
Operating Humidity: 5% - 95%, Non-condensing
Interface Connector: Locking mini USB cable & RJ45 GPI/O connector
Lens Mount: Adjustable C-Mount (CS-Mount option)
Frame Buffer: 1 frame buffer (optional expansion to 50 frames)
About Lumenera Corporation:
Lumenera Corporation is a leading developer and manufacturer of high performance digital cameras and custom imaging solutions which are used worldwide in a diverse range of industrial, scientific and security applications.
Please click on the links to the right or contact Lumenera Corporation today for more information.