COOLED USB 2.0 MICROSCOPY INFINITY CAMERA
Featured Product from Teledyne Lumenera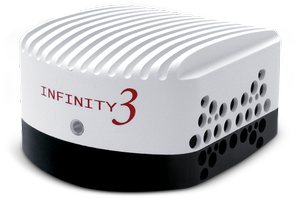 Lumenera's INFINITY3-1 camera is designed to be used in a wide variety of scientific applications. Cooled models are ideal in low-light conditions and where high dynamic range is required. Both color and monochrome product models are available.
With 1392x1040 resolution and on-board processing, these cameras deliver outstanding image quality and value for industrial and scientific imaging applications.
Uncompressed images in live streaming video and still-image capture are provided across a USB 2.0 digital interface. No framegrabber is required. Hardware and software based synchronization trigger is available as an option provided. On-board memory is available for frame buffering. INFINITY3-1 model cameras are offered in both enclosed and board-level form. Custom form factor (sizes) can be provided.
INFINITY ANALYZE software for advanced camera control, image processing, measuring and annotation, and INFINITY CAPTURE are included with purchase.
All Lumenera products are supported by an experienced team of software developers and application engineers. We understand your imaging needs and are here to help you with your integration and development.
The high-speed USB 2.0 (480Mbits/sec) interface eliminates a framegrabber and facilitates ease of installation on both laptop and desktop computers - Available in color or monochrome - Cooled feature reduces thermal noise during low light fluorescent imaging - The low noise characteristic of the INFINITY3-1 progressive scan 1.4 megapixel CCD image sensor results in crisp color quality for the most demanding brightfield, phase contrast, and fluorescent applications including GFP, FISH, NIR, FRET, life science and geology - Full color sub-windowing allows for rapid focus and scanning of samples: 15 fps at full 1392x1040 resolution - Select 8 & 12-bit pixel data modes - The RGB data captured through each pixel contains 30-bits of color image information resulting in 1024 intensity values - Camera control through an intuitive user TWAIN interface results in rapid image capture archiving and documentation for high throughput applications, demanding research environments and teaching facilities - The INFINITY3-1 has a compact design equipped with a C-Mount facilitating installation on all microscope configurations including upright, inverted and stereo - INFINITY3-1 cameras are software compatible with Windows XP, Windows Vista and Windows 7, 32 and 64-bit and MAC operating systems - Full one (1) year warranty