9.1 MP USB3 Camera Using Sony ICX814 CCD Sensor
Featured Product from Teledyne Lumenera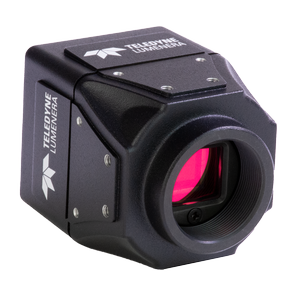 The Lt965R is Lumenera's latest high-performance USB 3.0 CCD camera that draws the most from the industry leading Sony's EXview HAD II CCD Quad Tap sensor technology. The ICX814 sensor-based Lt965R reliably delivers full resolution frames at the maximum achievable speed of 19 fps. This camera is ideal for applications where high resolution, and sensitivity are critical such as high-resolution surveillance, traffic, tolling, ophthalmology, life sciences, high-speed inspection, machine vision and NIR applications. A scientific-grade variant is available for the most demanding life science applications. The Lt965R can also be customized to suit OEM designs.
Lt965R Camera Product Highlights Include:
USB 3.0 camera using the 9.1 MP Sony ICX814 ExView HAD II Quaf Tap sensor technology
19 fps at full resolution (3376 × 2704)
9.1 megapixel color and mono solutions
High resolution, low noise CCD imaging
Global shutter with progressive scan for low smear
Impressive color reproduction
Compact design for integration

Zero loss 128 MB RAM frame buffer for reliable image delivery in demanding situations
Selectable tap read out to match sensor performance to your application

Industrial and scientific models
High Quality Images at High Speed
The Lt965R is built with leading edge Sony EXview HAD II technology. The ICX814 sensor provides unparalleled results when it comes to delivering a critical combination of features that include high quality, high sensitivity and low noise even into the NIR range. Lumenera is one of a limited number of camera suppliers to provide the highest possible frame rate that can be achieved with the ICX814 sensor.
FPGA-enabled performance, complemented by 128 MB of onboard memory for frame buffering, ensure dependable and reliable image delivery even in the most demanding machine vision systems. Unlike some competitive cameras, the Lt965R buffer technology delivers all frames at full speed and max resolution without introducing latency.