High Sensitivity 6.0 MP CCD USB 3.0 Camera
Featured Product from Teledyne Lumenera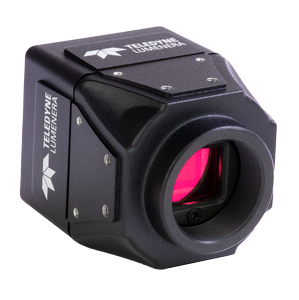 The Lt665R is Teledyne Lumenera's latest innovative, high performance USB 3.0 CCD camera based on the solid design of the Lt365R. Easy to use, the Lt665R builds on leading edge EXview HAD II technology to deliver high quality imaging and high sensitivity in a compact camera rich in features. Low noise electronics ensure clear and sharp images
rendering details with amazing accuracy. Its superior responsiveness positions it as a good choice for Near-Infrared (NIR) imaging. This camera is ideal for applications where high speed, sensitivity and resolution are critical including traffic, tolling, ophthalmology, life sciences, metrology, high-speed inspection, machine vision and NIR applications. A scientific-grade variant is available for the most demanding life science applications. The Lt665R can also be customized to suit OEM designs.
Lt665R Camera Product Highlights Include:
Fast frame rates of 27 fps at full resolution, 46 fps with 2x2 binning
Sony ICX694 sensor with industry leading EXview HAD II sensor technology
6.0 megapixel color and mono solutions
High resolution, low noise CCD imaging
Global shutter with progressive scan for low smear
Robust, sleek enclosure
Compact design for integration

128 MB RAM frame buffer for reliable image delivery in demanding situations
Selectable tap readout to match sensor performance to your application

Industrial and scientific models
High Quality Images at High Speed
The Lt665R was created for speed using the latest USB 3.0 technology to deliver the fastest image delivery possible from the Sony ICX694 sensor at its highest resolution. Image captures can be synchronized using either a hardware or software trigger. FPGA-enabled performance, complemented by 128 MB of onboard memory for frame buffering, ensure dependable and reliable image delivery even in the most demanding machine vision systems. Unlike some competitive cameras, the Lt665R buffer technology delivers all frames at full speed and max resolution without introducing latency.
Ordering Options:
Lt665RM 6.0 MP Monochrome Camera (requires power via GPIO interface: La2000PK or La2000PIOK)
Lt665RC 6.0 MP Color Camera (requires power via GPIO interface: La2000PK or La2000PIOK)
La2000PK Power Supply via GPIO connector (power only)
La2000PIOK Power Supply with GPIO cable (leads + power)
LuCAMSW-DVD DVD with user application software, camera device drivers and documentation
LuSDK Software Developer's Kit (Web Download)
LuSDKSW-DVD Software Developer's Kit (DVD)
Customization Options:
SCI - Scientific grade
WOIR - Plain glass within lens mount