INFINITY3-1UR 1.4 MP Scientific USB 2.0 Camera
Featured Product from Teledyne Lumenera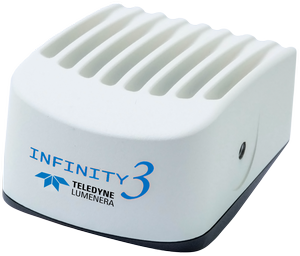 Lumenera Corporation, www.lumenera.com, a leading manufacturer and developer of high performance digital cameras and custom imaging solutions for scientific, industrial, and surveillance markets, is pleased to announce the release of a new ultra sensitive high color fidelity CCD scientific camera. This newest USB 2.0 offering from the popular INFINITY family of microscopy cameras is an ideal solution for low light applications such as fluorescence, and where precise color reproduction is needed.
The INFINITY3-1UR offers large 6.45ux6.45u pixels in a 2/3" format with a maximum resolution of 1392x1040. It employs the Sony ICX285 1.4 megapixel CCD sensor - the market leader for fluorescence and other challenging low light applications. In addition, the cameras near-perfect color rendition makes it an excellent addition to any clinical laboratory. Suitable for both fluorescent and brightfield imaging, this camera offers an excellent price-to-performance ratio.
The camera's adaptability to vary resolution and frame rate requirements, combined with low noise performance and 8 or 12-bit pixel data mode, make the INFINITY3-1UR an ideal camera for both live and fixed cell imaging. Live video preview allows for real-time focus; while auto exposure and auto/manual white balance efficiently capture your optimal image. This complete solution includes Lumenera's INFINITY CAPTURE and INFINITY ANALYZE software, and is offered with both color and monochrome capability. Advanced camera control is available through a Software Developers Kit, while TWAIN and DIRECTX drivers ensure integration and compatibility with a variety of 3rd party software applications.
"The INFINITY3-1UR is a perfect complement to our existing INIFINITY3-1 cooled camera, designed specifically for low light and fluorescence applications that do not need the extra cost of a Peltier™ cooler." said Brian Graydon, Director of Business Development for Scientific Markets, Lumenera Corporation. "Offering excellent performance for virtually any application, and priced well below the competition, this camera allows microscope users to meet the highest imaging standards."
The INFINITY3-1UR is now available. Visit www.lumenera.com for more information.