Lt16059H: 16 Megapixel 35 mm CCD USB 3.0 Camera
Featured Product from Teledyne Lumenera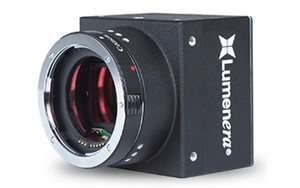 The Lt16059H is a 16 megapixel high-performance USB 3.0 camera equipped with the KAI-16070 35mm format CCD image sensor from ON Semiconductor (Truesense). With 7.4 µm pixel size, this camera is ideal for applications where high dynamic range and high resolution are required. The Lt16059H surpasses the competition with an impressive frame rate of 12 fps at full resolution over USB 3.0. Lumenera's unique "Dual-Gain High Dynamic Range" (HDR)* implementation is a rare feature that outputs the same high-resolution frame processed through two different gain amplifiers.
LT16059H CAMERA PRODUCT HIGHLIGHTS INCLUDE:
Canon EF lens mount with fully integrated controller for auto focus/iris supported by our API, increases accuracy and flexibility for remote applications

High quality ON Semiconductor KAI-16070 CCD sensor provides excellent dynamic range, low smear and excellent color reproduction

Quad tap design for fastest possible frame rates

Fanless body, small footprint and lower power requirements

Locking industrial USB 3.0 connector

Locking GPIO connector supporting 2 output, 2 input and 2 software configurable I/O ports and power, allowing external control of peripherals and synchronization of lighting

Zero loss 256 MB RAM frame buffer for reliable image delivery in demanding situations

Simplified cabling - video, and full camera control over a single USB cable

Binning improves sensitivity and Region of Interest (ROI) provides higher frame rates
AWARD WINNING HDR IMPLEMENTATION
Lumenera's creative HDR implementation produces a crisp merged image with no ghosting effects which makes it ideal for applications where imaging high speed objects, such as ITS, is required. Our unique HDR design takes a single captured frame off the sensor at full resolution, feeds it through two different amplifiers to produce a merged HDR image without introducing image blur. The KAI-16070 sensor provides high smear rejection (-115 dB) and up to 82 dB linear dynamic range through the use of a unique dual-gain amplifier. Lumenera received a VSD Innovators Award for dual-gain HDR implementation. * Future feature of the Lt16059H camera.
POWERFUL AND RELIABLE USB 3.0The Lt16059H benefits from Lumenera's proven USB 3.0 technology. Full streaming uncompressed video and still image captures are easily controlled through a set of stable and reliable USB 3.0 device drivers. Region of interest and binning modes allow the camera to run at faster frame rates while only providing the image data you need. Image capture synchronization is achievable using either a hardware or software trigger.
BUILT FOR RELIABILITY AND EASE OF INTEGRATION
Built for Reliability and Ease of Integration The robust enclosure of the Lt16059H is designed to effectively dissipate heat and increase reliability when coupled with a heat sink. The fully locking USB 3.0 cabling, power connector and digital interface ensure a simple plug-and-play installation. No frame grabber is required. Simplified I/O cabling is provided through a 12 pin GPIO connector supporting 2 output, 2 input and 2 software configurable I/O ports.
FPGA-enabled performance, complemented by 256 MB of onboard memory for frame buffering, ensure dependable and reliable image delivery even in the most demanding machine vision systems. The Lt16059H buffer technology delivers all frames at full speed and max resolution without introducing latency.