Leading the way in Emissions Monitoring
Product Announcement from Teledyne Monitor Labs, Inc.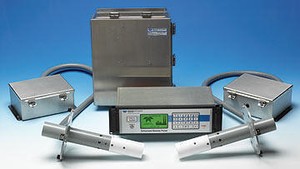 Throughout its history, Teledyne Monitor Labs has developed and patented breakthrough advances in emission monitoring technology. Teledyne Monitor Lab's drift-free Ultraflow Volumetric Flow Monitor was the first to perform across-the-stack zero span calibration checks.
Now, Teledyne Monitor Labs has advanced the technology to include quad-sets of transducers to handle unique application issues eliminating the need for additional platforms and to improve response time for process control applications. The Ultraflow's modular design enables site specific configurations, thus giving users unique control over their application needs.
These advanced products-along with aggressive, ongoing development programs-make Teledyne Monitor Labs a leader in the emissions monitoring instrumentation market.
UltraFlow 150's new features and benefits include:
New lower mounting angles (>=15º) can improve ability of the monitor to reject flow pitch effects
5ft. vertical offsets between transducers eliminates the need for a 2nd platform
Can be installed on existing 45º angles with ease
Six-fold increase in resolution provides even greater accuracy (2-5% not unusual)
All programming capable through the Enhanced Remote Panel or Transducer Interface Enclosure
Operator capability to program curve coefficients through the panel or RS232 port
Polynomial or three-point look-up table for the correlation curve
Three point look-up table for the temperature R-factor for improved temperature calculation
Support for a stack-mounted barometric pressure transducer and RTD inputs
Local User Display available in the Transducer Interface Enclosure
Signal/Noise diagnostic check to predict transducer fouling or failure
Quick disconnects/connects on transducer assemblies for easy extraction and insertion
Single pair of wire to communicate between the stack and remote panel
» UltraFlow 150 Installation Drawings & Specifications
» UltraFlow 150 Installation Checklist
» UltraFlow 150 Wiring Diagrams
---