sensor-e® Series Gas Analyzers
Product Announcement from Teledyne Monitor Labs, Inc.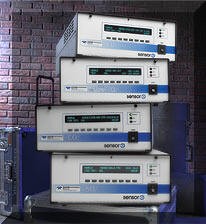 The sensor-e® series of gas analyzers use proven analytical techniques, coupled with state-of-the-art microprocessor technology to provide accurate and dependable gas measurements. The multi-tasking software gives real time indication of a large number of operational parameters and provides automatic alarms if diagnostic limits are exceeded.
All instruments of the sensor-e® series include an extensive built-in data acquisition capability using the analyzer's internal memory. This allows the logging of multiple parameters (up to 1 million records) including averaged or instantaneous concentration values, calibration data and operating parameters such as flow, pressure and lamp intensity.
All instruments in the sensor-e® series offer Ethernet connectivity which allows for remote access to all analyzer functions and data. Stored data is easily retrieved through the serial or Ethernet port via sensor-e.com or from the front panel, allowing operations to perform predictive diagnostics and enhanced data analysis by tracking parameter trends.
---