Epson EU-T500 Printers
Product Announcement from Telpar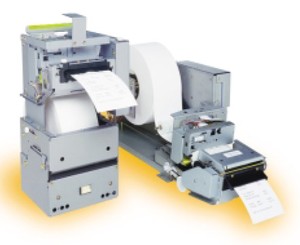 Best in class components
Fast printing speeds up to 6 ips (inches per second)
Designed to print and cut paper 58-114mm wide, 2.2-7.2mm thick
The EU-T500 series offer the reverse friction-feed retractor for confidential receipts
Upgradeable firmware and interface options
Rugged enough for both indoor and outdoor environments
Wide range of cost-effective service options
Epson's Kiosk Series printers print on a wide range of thermal paper stocks, and offer the fastest, most versatile printer and presenter systems for outdoor and indoor kiosks.

If you're looking for the best in thermal printing presentation, ease of installation and service-at a great price-look no further than the Epson Kiosk Series printers.

Modular design, superior components
Is your kiosk tall, short, wide or narrow? Do you need a large paper roll or to print thick tickets? Do you have specific requirements for receipt retraction capabilities? No matter what your needs, Epson uses modular components to build a kiosk system that's perfect for your unique application. For more than 30 years, our kiosk printers have proven themselves to be reliable workhorses in both outdoor and indoor environments.

The best in system compatibility
Epson Kiosk Series printers offer plenty of non-volatile memory for graphics and logos, network upgradeable firmware for centralized maintenance and upgrades,Windows,® Linux and NT drivers, serial, parallel and USB interfaces all with standard connections and modular expansion capability through daughter board options.

Exceptional design services
Epson Design Services offer a full range of consulting, design and engineering services to help you bring your kiosk project to market. These services include full 3D Pro-E renderings that let you see the details, and rapid prototyping for electronics, firmware, SLA cases and metal work.

High-volume manufacturing
Whether you need 100 printer systems or 100,000, Epson can handle your order with ease and efficiency. To make sure your printers reach your manufacturing facilities on time, we offer complete integration and logistics control. We can build custom circuit boards with firmware unique to your kiosk application, manage all testing and safety certifications and provide high-volume manufacturing.
---