Telpar Stealth MTP 2822
Product Announcement from Telpar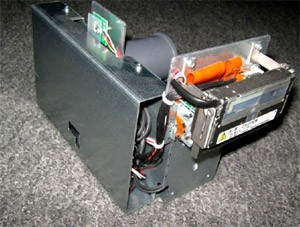 2 in Direct Thermal Printer with Print Speed of 8 In/sec and Multiple Interfaces USB, Network, Serial, Parallel
The Telpar Stealth MTP2822 2 inch direct thermal printer is the one of newest members of the "Best-in-Class" Stealth MTP-2200 Series thermal printer line.
This new 2 inch printer features; USB, network, serial and parallel interface connectivity, a faster print speed (up 8 inches per second), and wider operating temperature range, allowing for increased productivity in a wider range of self service and kiosk printer applications; including gaming, self service vending, receipt ticketing, ATM, as well as many remote printing environments.
The Stealth MTP-2822 thermal printer now offers many key enhancements to the MTP-2200 printer series while delivering Telpar's tradition of durable and reliable printers. The new printer has the same footprint, but now uses a newly designed print mechanism to provide double the print speed and print head wear life.
MODULAR THERMAL PRINTER
• Direct Thermal Printer Offers an 2 inch (60MM) Paper Width
• 200 DPI (8 DPMM) Resolution
• Print Speed of 8 inch Per Second
• Multiple Interfaces: USB, Network, Serial, Parallel
• Operating Temperatures - 25° C to +70° C
• Supports Windows © Based Drivers
• Clamshell Design for Easy Maintenance
• Continuous Paper Roll
• Long Life Auto Cutter
• Patented Kiosk Printer Design
• Compact Foot Print
• Rugged, All-Metal Construction
• Factory Warranty

OPTIONS
• Available With or Without Document Presenter
• External barrel Jack Power Supply (98-240 VAC/ 47-63 HZ) with integrated power switch
• Paper Rolls
• Adapter Cables: Serial, Parallel,
• Paper Delivery Bezels
---