Intro to Channel Strip Heater Power Variations
Featured Product from Tempco Electric Heater Corporation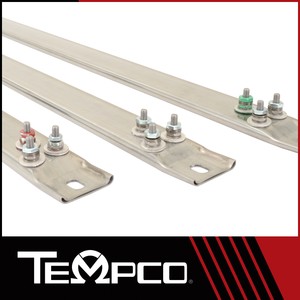 One of the many product line offerings Tempo has is Channel Strip Heaters. These flat, rectangular heaters are manufactured with a 304 stainless steel sheath that provides strength and resistance to high application temperatures and chemical corrosion. The heating element in these strip heaters is a resistance wire coil made from nickel-chrome that is helically wound. The element is strung through a ceramic insulator. Remaining space within the sheath is filled with a proprietary blend of magnesium oxide grain sizes that is designed to increase conductivity and dielectric strength.
A variation of these heaters is Tempco's Finned Channel Strip Heaters. Fins are mounted to our standard channel strip heater, transforming it into a heater ideal for air circulation applications or static environments with lower temperatures.
Power variations are an important feature of our channel strip heaters. They allow for design flexibility to fit application needs such as space constraints or power optimization requirements that standard heaters might not be able to meet. These variations include:
Three-phase wiring
Dual-voltage
Distributed wattage
Dual-circuits
Grounded lead wire
Visit Tempco's Blog for the full descriptions of these power variations and the benefits of utilizing them for your application.