TUBULAR/DUCT HEATERS–BATTERY ELECTRODE APPLICATION
Featured Product from Tempco Electric Heater Corporation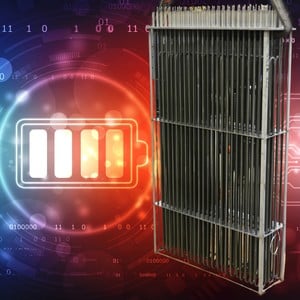 A customer approached Tempco in need of a high wattage heating solution for a battery electrode manufacturing application. In addition to the high wattage, the customer's request included additional specialty requirements. Tempco designed multiple iterations of heaters to implement at different zones of the customer's manufacturing process. One of the larger designs consisted of a 53" housing length operating at 400KW with a 4" custom insulation box.
Due to the heating requirement, initial designs were developed with over 100 tubular elements. However, these designs required too much welding for assembly in the standard hairpin bend formation. Through an innovative design process...we reduced the total amount of elements by over 30%. Because less tubular heating elements were needed, there was a decrease in possible failure points, overall cost and assembly complexity creating a more effective and cost-saving design...
...The final heaters proved to work well for this heating application. They were able to heat a fast moving flow rate of air (around 6000cubic feet/minute) by 100?F as it passed over the elements. Several custom thermocouples were also attached to tubular elements and placed near the outflow of air to allow for a more precise control while preventing overheating.
Visit our blog for the complete article: TUBULAR DUCT HEATERS FOR BATTERY ELECTRODE MANUFACTURING