Tempco Bolt Cartridge Heaters
Featured Product from Tempco Electric Heater Corporation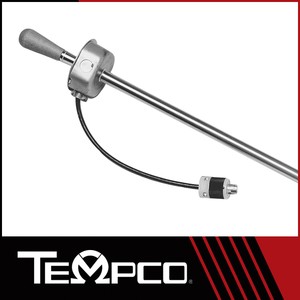 Design Features for Tempco Bolt Cartridge Heaters:
Hi-Density Construction
Conduit Box with Knockouts
Wooden Handle
High Temperature Lead Wires – 250°C (482°F)
Optional SJO Cord or Post Terminals
Optional Quick Disconnect Plugs
The higher wattage on our Hi-Density (swaged) Bolt Heaters means quicker heat-up time and minimum heat loss to the area surrounding the bolt.
Tempco Bolt Heaters are sized for easy insertion into a hollow bolt. The rapid heating of the bolt expands it, allowing further tightening of the nut. The heater is then de-energized and removed. As the bolt cools, its contraction back to original size provides a tight fit.
Typical Applications:
Large Compressors

Turbines

Die Blocks

Large Cylinders

Engine Heads

Pressure Vessels
Visit Tempco's website for additional details including specifications and tolerances.