10MM / 12MM Coils Toko Alternatives by Temstron
Featured Product from Temwell Corporation / Temstron Co., Ltd.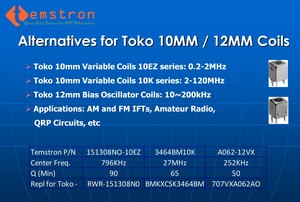 Temstron offers Toko 5CCE / 10mm / 12mm coils alternative for AM / FM IFTs, Amateur Radio, QRP Circuits application. If you need quotation or details, please feel free to contact us. Or send your required specs for custom. We are able to supply long term and cost-effective solution.
Link: https://reurl.cc/9E2bRV
Toko 10mm Variable Coils 10EZ series: 0.2-2MHz
Toko 10mm Variable Coils 10K series: 2-120MHz
Toko 12mm Bias Oscillator Coils: 10~200kHz
5CCE, 5CCB, 5CCF, 5CCD (614) Obsolete supply
Ferrite core supply upon requirement