1875MHz Band Pass Filter by Temwell
Featured Product from Temwell Corporation / Temstron Co., Ltd.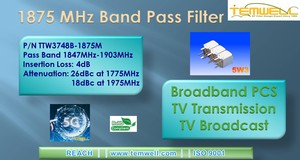 Temwell Helical Filter P/N TTW3748B-1875M is a bandpass filter that pass band 1847MHz to 1903MHz, 8.6mm height. It could be used for Broadband PCS, TV Transmission, TV Broadcast. Check datasheet: https://reurl.cc/q8K8R3
Temwell helical band pass filters is tunable which can support frequency fine-tuning. Center frequency range 42MHz-2600MHz, bandwidth range 2MHz-200MHz, double tuned / triple tuned / quadruple tuned / quintuple tuned design, impedance 50 ohm / 75 ohm, pin type / connector type. We provide custom-made for any requirement you may have.
See more filters: https://reurl.cc/7obo81
Any questions or concerns, please contact us sales@temwell.com.tw