3.4-3.5GHz Diplexer for Base Station from Temstron
Featured Product from Temwell Corporation / Temstron Co., Ltd.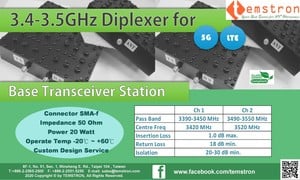 Temstron offers Cavity Diplexer frequency band 3.4GHz-3.5GHz application for LTE 5G Mobile Base Transceiver Station. The diplexer supports 20W power and flexible custom spec value design. Low loss in IL and great Isolation performance.
Link https://reurl.cc/R43o4e to see spec sheet.
Welcome to contact us for custom design.
See product page: https://reurl.cc/R43o4g