5G-NR & LTE Band 3 Cavity Notch Filter
Featured Product from Temwell Corporation / Temstron Co., Ltd.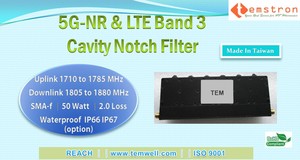 Temstron provide high rejection Notch Filter which can solve your RF design devices If occurred signals interference near or in 5G-NR or LTE frequency bands. Demo is Cavity Notch Filter for 5G-NR FDD and LTE Band 3. Stop Band Frequency Uplink 1710 to 1785 MHz and Downlink 1805 to 1880 MHz, Low insertion loss 2.0dB, Good attenuation 40-50dB and above, Power handling up to 50W with SMA type connectors, Waterproof IP-graded for outdoor application option. Support lab test bench, filter bank building and telecommunication network systems.
Frequency range is customizable. Please contact us.
See more cavity filter https://reurl.cc/kVvqqn