880MHz Band Pass Filter for Cellular Base Station
Featured Product from Temwell Corporation / Temstron Co., Ltd.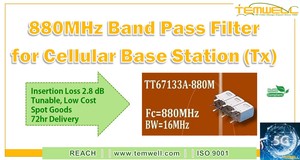 Digital terrestrial TV and mobile service are shared 800 MHz band which in 790-862 MHz, so there is possible interference caused. Temwell provide low loss and high attenuation Bandpass filter to eliminate the jamming issue.
Demo model TT67133A-880M, center frequency at 880 MHz and -3dB bandwidth approx 16-20 MHz. It is suitable for cellular base station transmission. Samples despatch in 72 hours.
Check datasheet: https://reurl.cc/ygLnrO
See more online stock: https://reurl.cc/9XvZGV
Any questions or concerns, please contact us sales@temwell.com.tw