Band Pass Filter for Transceiver Mixer application
Featured Product from Temwell Corporation / Temstron Co., Ltd.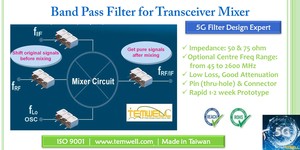 In communication systems of the RF Front End circuit, RF band pass filters occupy an important position. Band pass filter can remove signal interference and purify the signal in circuit. Temwell has long history with the design and manufacture of helical band pass filters. The helical band pass filters provide low loss, good performance and highly selectivity for RF Front End application.
Temwell helical band pass filters is tunable which can support frequency fine-tuning. Center frequency range 42MHz-2600MHz, bandwidth range 2MHz-200MHz, double tuned / triple tuned / quadruple tuned / quintuple tuned design, impedance 50 ohm / 75 ohm, pin type / connector type. We provide custom-made for any requirement you may have.
Link https://reurl.cc/py5Qoa for more information.
Temwell Bandpass Filter catalog https://reurl.cc/3LedR0
Any questions or concerns, please contact us sales@temwell.com.tw