Cavity Filters by Temwell Group
Featured Product from Temwell Corporation / Temstron Co., Ltd.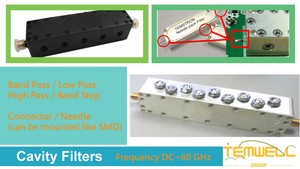 Cavity Filters are one of the fundamental building blocks of modern communications systems. A cavity filter has two functions, to pass the desired frequency or to reject as much of the undesired frequencies as possible. Temwell supports Cavity Filters frequency from DC to 60 GHz. Type: N, SMA, SMD, Needle as SMD, etc. Free consulting please contact me.
For additional information https://www.temwell.com/category-custom-cavity-filter.html.