FM Bandpass Filter for Broadcast Station
Featured Product from Temwell Corporation / Temstron Co., Ltd.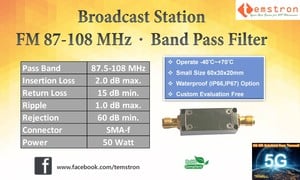 Temstron bandpass filter in FM band 87.5 to 108 MHz is for broadcast transmitter station. Low insertion loss 2.0dB, very flat 1.0dB in the pass band, good return loss more than 15dB, also excellent attenuation more than 60dB. In a small size with SMA connector and sustain high power 50 Watt. Contact us for a quote, or custom different frequency filter, option from Dc to 60GHz.
See website: https://reurl.cc/N6N6Ke
E-mail: sales@temwell.com.tw
Facebook: https://www.facebook.com/temstron