High Power/Broad Band/High Band Connector Filter
Featured Product from Temwell Corporation / Temstron Co., Ltd.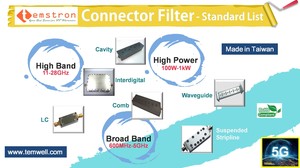 Temstron is a filter design expert. Below is connector style filters we supply.
1. High Power: demo average power 100 Watt, peak power up to 1500 Watt. Recommend tech is Cavity filter
2. Broad Band: demo bandwidth above 600 MHz, up to 5 GHz. Recommend tech is LC, Interdigital, Cavity & Comb filter
3. High Band: demo frequency above 11 GHz, up to 28 GHz. Recommend tech is Cavity, Comb & Interdigital filter
Link to see Standard Connector Filter List: https://reurl.cc/Grea03
Frequency within DC-60 GHz, all types and all specs can be designable upon your request. For next-gen 5G NR band we had successful cases. Come to us for free design evaluation.
E-mail: sales@temwell.com.tw
Website: www.temwell.com
Facebook: www.facebook.com/temstron