Low Group Delay Filters for 5G Networks
Featured Product from Temwell Corporation / Temstron Co., Ltd.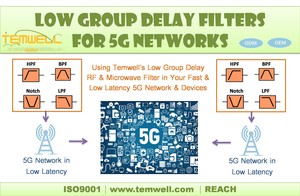 5G will bring us a new technology called ultra-reliable low latency communications (URLLC), it enhanced mobile broadband (eMBB) service and implement massive machine type communications (mMTC) to achieve Industrial IoT, Smart City etc.
Low latency will be required in 5G networks and devices, so using Low Group Delay components such as RF & Microwave filter is efficient way to support low latency.
Temwell Group can design and provide low group delay and high rejection RF & Microwave filters, standard and talored evalaution.
See more info https://www.temwell.com/category-weekly-news.html or contact us for free design consultant.
Website: www.temwell.com
E-mail: sales@temwell.com.tw