Low Group Delay Filters to achieve 5G URLLC
Featured Product from Temwell Corporation / Temstron Co., Ltd.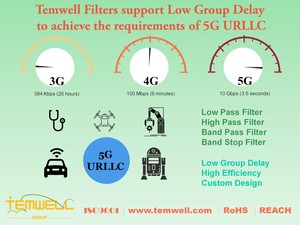 5G networks has low latency, high reliability and high availability which could help application on smart factory, industrial automation, healthcare industry, entertainment industry, transport industry, manufacturing industry, etc.
Temwell's filters provide low group delay and high efficiency to achieve 5G faster communications. Contact us for free consultant.
Link: https://reurl.cc/rxkVpy
Website: www.temwell.com
Email: sales@temwell.com.tw