Cleanroom Storage Cabinets
Product Announcement from Terra Universal, Inc.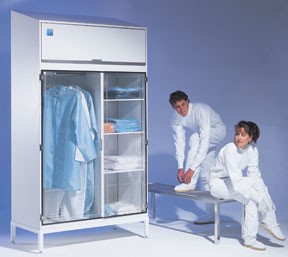 Roomy cabinets include chrome-plated posts and adjustable wire shelves to store materials of many sizes
Select additional chrome-plated wire shelving and versatile storage fixtures to organize cleanroom garments, booties, gloves and other supplies
Models available with HEPA filter/blower unit that maintains a continuous wash of particle-free air
Double doors are available in plexiglass or transparent Static-Dissipative PVC
These cleanroom storage units allow you to design a cabinet that's just right for your application.
Choose between models with or without the HEPA filter/blower module. This module, positioned in a chamber above the storage area, includes a quiet, direct-drive, variable-speed blower. The blower is mounted above a filter unit which accommodates a HEPA filter (sold separately) rated 99.99% efficient at removing particles 0.3µm and larger.
This blower/filter module delivers up to 120 linear feet/minute (0.61 m/s) of air, a continuous downstream that blocks the inrush of contaminants into the storage area and helps to keep cleanroom supplies particle-free. An air outlet located at the bottom of the storage area discharges air along with any contaminants that may have entered the cabinet. All blower/filter components are easily accessible in a chamber with a swing-up front panel. For cabinets without a filter-blower module, this chamber can be used as additional storage.
---