EZ-UP Cleanroom®: Modular Suspended Frame
Product Announcement from Terra Universal, Inc.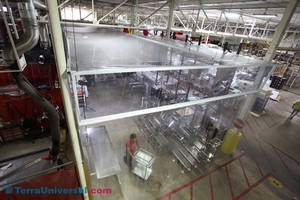 Terra's Suspended Frame EZ-UP Cleanroom creates a large-scale, low-cost ISO cleanroom in hours, not days or weeks! This system employs unique zippered vinyl panel system to meet most space and contamination requirements.
Each cleanroom features two end panels with zippered or parting strip-shield entries, which attach to versatile middle panels that drape over a suspended ceiling frame support structure. Middle panels zipper to end panels, and you can combine as many middle panels as needed to extend the cleanroom length in nominal 13-foot increments (see illustration below).
Anti-static, flame-resistant panels are available in 40- and 20-mil thicknesses to meet your requirements for ceiling load and durability. The frame structure consists of 2"-square powder-coated steel members that provide ample strength to support vinyl panels. Convenient mounting kits contain wire rope, eye bolts and other hardware needed to securely anchor the structure from warehouse or other facility ceiling.
Rack-mounted 99.99% efficient HEPA filter/fan units provide a horizontal flow of clean air to meet low-particle requirements inside the EZ-UP Cleanroom. By positioning these HEPA units at approximately 20-foot increments along the cleanroom perimeter, you create ISO 8 cleanliness conditions to meet a wide range of processing requirements (see sidebar). Alternatively, a high-volume HEPA-filtered air handler provides a more centralized source of cleanroom-grade clean air
---