Environmental Test Chambers
Product Announcement from Terra Universal, Inc.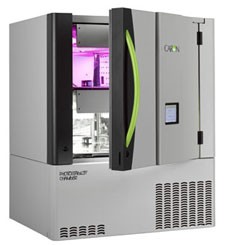 Repeatable environmental conditions for component burn-in, shelf life monitoring, package testing, light exposure and temperature evaluation studies
Microprocessor PID controllers provide precise temperature and humidification
Two chamber sizes available (10 cubic foot and 30 cubic foot)
These chambers provide the ideal environment for a wide range of testing and evaluation studies in many industries.
Their 304 stainless steel interiors are durable and easy to clean. Large chambers feature a key-lockable full-view glass door; small chambers include a key-lockable interior glass door. All chambers are designed for horizontal air flow and feature one 2" access port and two fresh air vents.
Select among three configurations:
Refrigerated Incubators provide precise temperature control.
Diurnal Incubators add a light package.
Stability Chambers incorporate a relative humidity system with a solid state humidity sensor and controller that allows humidification and de-humidification for operation from 20 to 98%RH (limited by 4°C minimum dewpoint).
All incorporate microprocessor PID controls to ensure the absolute repeatability required in critical applications, a 304 stainless steel sheath RTD temperature probe, and LED temperature display. Audible and visual temperature alarms alert the operator if the temperature deviates from the active setpoint or exceeds a high limit threshold. Non-volatile memory allows the chamber to return to the original setpoint in the event of power failure.
Both temperature and humidity controllers include two separate displays: one for process and one for setpoint.
The chambers utilize environmentally friendly HFC refrigerant and CFC-free insulation, and are designed to meet NEC, UL and CSA standards for safety and performance. All U.S. models are covered by a 12-month parts and labor warranty.
---