Exhaust Fume Hoods
Product Announcement from Terra Universal, Inc.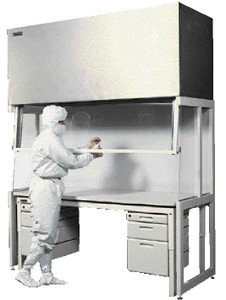 304 Stainless Steel or CR Steel Hood safely vents noxious or hazardous fumes away from the work surface
Optional Exhaust Purification System (with explosion-proof ventilator) safely removes hazardous fumes for safe indoor release of exhaust
Transparent static-dissipative PVC side panels and sliding shield control negative pressure under the hood, reduce risk of fumes escaping
Steel frame provides sturdy support, isolates hood from work surface
Optional vapor-sealed lighting improves visibility
Variety of work surfaces available, including vibration-free work stations and dissipative benches
This Exhaust Fume Hood is designed to afford you maximum economy and flexibility in designing the system that's just right for your application.
Practical Design Combines Strength, Versatility
The frame is fabricated from welded 1.5" x 3" 16-gauge C.R. or 20-gauge stainless steel to ensure sturdy support for the exhaust fume hood. The finish is a chip-resistant, white powder coat. The frame also isolates the hood (and any vibrations the hood causes) from the work surface.
The hood features a 10" round discharge; this allows easy connection to your in-house exhaust system to provide the internal negative pressure necessary to safely remove fumes from the work surface. Other discharge flange sizes are provided on a custom basis. This hood is completely non-contaminating and resists a wide range of corrosive materials; select stainless or cold rolled steel.
Side panels made of transparent static-dissipative PVC ensure that no fumes escape from beneath the hood while allowing full visibility from the side and eliminating the claustrophobic feeling operators often experience in an all-stainless steel enclosure.
Easy-Glide Sliding Shield Enhances System Flexibility
The front of the unit features an easy-glide sliding shield (also made of transparent static-dissipative PVC mounted in an powder-coated aluminum frame). Because this front shield is counterweighted, it can be positioned at any place you desire to restrict or open up access to the work area. You can even modify the shield to accommodate protruding process equipment or an operator's arms. Extending it downward effectively increases the negative pressure under the exhaust hood and reduces the chance of fumes escaping into the surrounding area. Because it is transparent, this shield affords full visibility of the entire work surface, even when fully extended. Extension below hood: 35" (fully extended); 8" (fully retracted).
Ductless Exhaust System Extends Capabilities
Terra offers a number of options to meet particular requirements. The Ductless Exhaust Purification Hoods include an explosion-proof blower installed inside the hood and provisions for mounting purification filters and particle filters that safely remove a wide array of fumes to allow safe indoor release of exhaust. This system is ideal for use in such processing operations as screen printing, soldering and etching. When used without filters, this option enables you to vent exhaust fumes by means of exhaust conduit.
Other options include a vapor-sealed fluorescent lighting assembly, which enhances visibility under the hood, and a number of work surfaces.
---