Hardwall Plastic Cleanrooms
Product Announcement from Terra Universal, Inc.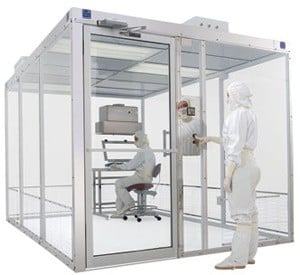 Terra's Hardwall Modular Cleanrooms provide the rigidity and durability of a freestanding room. All components are factory-assembled and tested before shipping, and on-site installation is usually completed in less than a day.
Unlike other modular cleanrooms on the market which require complex suspended ceiling supports, Terra cleanrooms are completely free-standing structures
Cleanroom Support Frame
The support frame is fabricated of interlocking 1.75" powder-coated square steel uprights and cross sections. Ceiling members are welded to steel 3" x 1.5" T-bars, forming the 2' x 4' bays that support filters and lights. Vertical finishing strips, fabricated of mirror-finished 304 stainless steel, hold hardwall panels securely in place. Standard height is 7' measured from filter face to floor (8'3" with filter/fan unit), allowing installation beneath a standard 9' ceiling. Other heights are available.
Hardwall Panels
Modular hardwall panels are cut in 4'-wide x 7'-high panels. Specify other desired height. They are available in three rigid materials:
Acrylic Panels offer full visibility and outstanding tensile strength. These economical panels are lightweight and easy to clean. Standard panels are clear, but black and amber panels are also available (tinted panels may extend lead time).
Static-Dissipative PVC Panels are recommended for the most contamination-sensitive applications because of their ability to control particles along with static charges. The friction created by a laminar airflow generates surface charges on nondissipative walls, which in turn attract and hold particles. Your cleanroom wall becomes a particle magnet!
Dissipative PVC safely conducts these surface charges to ground, protecting against potentially damaging ESD (electrostatic discharge) as well as particulate contamination. Dissipative layers are molecularly embedded for optimal durability. Surface resistivity: 106 - 108 ohms/sq. cm (ASTM-D257).
Polycarbonate (Lexan®) resists many common acids, solvents and cleaning solutions. Its high tensile strength makes it shatter resistant.
IsoVent™ Air Release Vent
Each of the standard plastic panels features a series of exhaust vents, covered by a flexible static-dissipative PVC strip to prevent particulate influx. These IsoVents ensure adequate positive pressure inside the enclosure, independent of filter configuration.
Internal- or External-Mount Panels
Select Panel Mounts for Your Requirement—
Internal-Mount Panels
Polyethylene or mirror-finished panel joints create a smooth internal surface that's easy to disinfect.
External-Mount Panels
Includes mirror-finish 304 stainless steel control panel and mounting strips for a showcase room that's also durable and easy to clean.
---