High-Speed Roll-Up Door
Product Announcement from Terra Universal, Inc.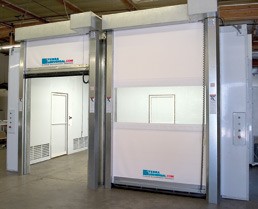 Watch>>Cleanroom with Roll Up from Terra Universal
High-speed operation
Ideal for loading and unloading large
containers in a high-cycle cleanroom
Safety mechanism stops door motion
Cleanroom-compatible materials
Terra offers several alternatives to our standard modular cleanroom access doors for unique applications requiring rapid operation, large clearance and cleanroom compatibility.
Wall-mount and floor-mount roll-up doors also available.
Roll-up pass-through chambers are found here.
Terra Universal is the leading manufacturing expert in critical environment applications, with over 35 years of design and fabrication experience in cleanroom-related industries.
Terra Universal manufactures comprehensive lines of critical environment solutions, including modular cleanrooms, glove boxes, laminar flow benches and furniture designed to meet customer requirements for

Particle filtration
Laminar flow control
Temperature control
Humidification/dehumidification
Exhaust fume filtration
Chemical vapor removal
Ultra-clean materials
Vibration isolation
Biohazard containment
Vacuum control
Ergonomics
Sterilization
Static control
Custom Manufacturer — Terra creates solutions for application-specific manufacturing challenges, quickly and economically. Terra's manufacturing complex in Fullerton, California includes latest-technology CNC sheet metal and plastic equipment along with complete welding, electronics, and metal finishing shops.

On-site Engineering and Technical Support — Terra's engineering department works with you to design turnkey solutions. Systems are configured, assembled and tested before shipment. For many Terra systems, custom software configurations are available to meet user requirements for temperature, humidity, and decontamination cycles.

Terra also maintains field technical support at locations throughout the U.S. and the world.
---