Stainless Steel Glove Boxes (Series 300)
Product Announcement from Terra Universal, Inc.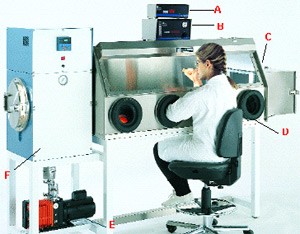 Provides a clean, air-tight, controlled environment for a wide range of manufacturing processes in semiconductor, pharmaceutical, and other industries
Air Lock features recessed polyurethane seals and heavy-duty latches and hinges for enhanced durability and sealing performance
Side flanges simplify insertion/removal of process equipment and allow easy addition of ovens and air locks
Removable arm ports can be interchanged to meet specific requirements and accept a wide variety of gloves
Select single model (with two glove ports) or twin model (with four glove ports)
The Series 300 Stainless Steel Controlled Atmosphere Chamber provides a hermetically sealed environment for such manufacturing operations as resistance welding of semiconductor hybrids, parts degassing, temperature and humidity testing, and chemical mixing in a non-reactive environment.
A wide safety glass viewing window is tightly installed using gasketed seals that ensure minimum vapor loss and stand up to positive pressures. A fluorescent light fixture, cord and switch are mounted to the exterior of the chamber to ensure proper illumination without contaminating the internal environment or posing a combustion hazard in the presence of flammable gases.
Convenient Access, Optimal Versatility
These chambers come standard with removable arm ports (two or four, depending on the model selected) that are double-gasketed and bolted to the chamber wall for strength and optimal seal integrity. They can be easily removed and replaced with either Terra's iris arm ports or custom ports designed to meet specific requirements. (Order gloves separately.)
Like our other stainless steel chambers, all Series 300 models also feature side access flanges that allow easy attachment of Terra's process modules (ovens and air locks) and also permit "cascading" of several chambers in series. These flanges are easy to remove and reinstall and feature a "U-channel" double-gasketed seal that guarantees the integrity of the internal environment.
Air Locks Allow Convenient Access
These glove boxes can be outfitted with air locks that maintain the integrity of the controlled environment without sacrificing convenience.
All air locks are pre-mounted to a side flange that is easy to install on the Series 300 chamber; select locks for right- or left-side installation. They minimize nitrogen loss and contamination inflow while parts are introduced or removed, particularly when equipped with their own gas controls. Their safety glass viewing windows are sealed with one-piece, non-adhesive compression gaskets. On a custom basis, air locks can be ordered with dual mounting flanges to "cascade" several atmospheric chambers in series. All air locks include a .125" NPT pipe-tapped opening for connection of purge gas and a .25 " NPT outlet to accommodate an Automatic RB® (Relief/Bleed) Valve.
Note: For vacuum requirements up to 29.9" Hg, select a Series 400 Atmospheric Chamber along with Terra's Vacuum Antechamber.
Nitrogen Controls Ensure Low-Humidity, Contamination-Free Atmosphere
Two plugged .75" NPTF openings—an inlet in the upper left corner of the back panel and an outlet in the lower right corner of the back panel—allow you to purge the chamber with nitrogen in order to guarantee an environment free of contaminants and moisture. For optimal processing conditions, select Terra's Glove Box Dual Purge™ System and NitroWatch®, which work in tandem to provide completely automatic gas purging.
The Dual Purge System delivers a variable nitrogen purge into the glove chamber. During normal operation, it provides a continuous low-flow purge to maintain a positive pressure that blocks out contaminants. In the event of a sudden pressure drop, it activates a high-flow purge to block out contaminants and to quickly purge any moisture or particles that do enter the chamber.
The NitroWatch provides automatic low-humidity control. It monitors the internal relative humidity, and activates the high-flow purge when the moisture climbs above an adjustable set point. For ultra-low humidity requirements, select the DewWatch™ instead, which works with the Dual Purge System to automatically maintain moisture levels as low as 0.5 ppm(v). The Automatic RB® (Relief/Bleed) Valve ensures safe pressure relief with these control systems and also functions as a check valve, ensuring that no moisture or contaminants enter the chamber in the event of a negative pressure. For economical operation, gas can be directed from the RB Valve outlet to an adjacent air lock, thereby conserving nitrogen consumption.
Select the single or twin model; twin glove boxes feature two pairs of glove ports to accommodate two operators (order gloves separately). Other system options include a filter/blower module for filtering and recirculating purge gas or purifying exhaust; self-balancing ionizing equipment for complete static safety; and a variety of gas mixers and analyzers for use in precisely controlled gas environments.
Note: These glove boxes are designed for use under positive or low-level (to 1" Hg) negative pressures. Higher-level vacuums (to 29.9" Hg) can be achieved in Terra's Vacuum Antechamber, which operates with the Series 400 chambers.
---