Vertical Laminar Flow Workstations
Product Announcement from Terra Universal, Inc.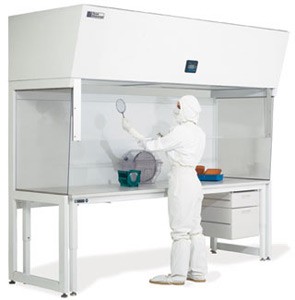 Economical system provides a laminar flow of HEPA-filtered air to meet the most critical contamination requirements
Incorporates industry-leading 50 dBA blowers for quiet, low-vibration operation
All-stainless steel construction is cleanroom compatible and easy to clean
Wet station VLF includes polypropylene rear panel for chemical resistance
Side panels and optional front sliding shield effectively control the laminar air stream to achieve the air speed you require
Fluorescent illuminators ensure easy viewing
Optional ionization equipment safely neutralizes static charges throughout the work area for effective
ESD protection
Accommodates standard Terra work benches in many materials, as well as standard Terra wet processing sations
Terra Universal's Vertical Laminar Flow Station combines several of their most advanced products in a state-of-the-art work station that removes particulate air-borne contamination.
The backbone of the system is the reliable Filter/Fan Unit (FFU), which provides a flow of microfiltered air to meet cleanliness standards down to Class 1 (per FED-STD-209)
Patented baffling technology ensures uniform airflow across the filter face and attenuates sound for the lowest noise level in the industry: approximately 50 dBA. Select the HEPA (High Efficiency Particulate Air) filter, rated 99.99% efficient removing 0.3-micron particles. Each unit includes a high/low adjustment switch.
Tests show that the work station exceeds Federal Standard 209E for a Class 10 work environment with HEPA filter.
Side and Front Panels Let You Control Laminar Flow
The Vertical Laminar Flow Station comes complete with transparent acrylic side panels that restrict the laminar flow and ensure an effective wash of HEPA filtered air over the entire work surface.
For additional control of the laminar flow, select the Sliding Shield, which can be adjusted up or down along the front of the access area to the level you require. This feature allows you to control the force of the laminar flow to accommodate your application: stronger flows ensure optimal cleanliness; and weaker flows reduce turbulence that might disturb small parts.
The Sliding Shield is made of Static-Dissipative PVC, a transparent material that features a surface resistivity of about 107 ohms/square. This static-dissipating characteristic eliminates not only static charges that can damage sensitive components, but also the particles that static charges attract. As a result, the sliding shield remains clean—inside and out. Note: To ensure optimal static and contamination protection, Terra recommends that you select side panels made of Static-Dissipative PVC if you select the sliding shield option.
VLF stations are available with work surfaces that accommodate every application. The standard work surface is a nonconductive laminate top sealed on all sides to meet cleanroom requirements. Others are available with tops made of dissipative laminate, 304 stainless steel, and polypropylene.
For delicate microscope operations, select the Vibration-Free Work Station, which eliminates up to 90% of all building vibrations to ensure a steady work surface.
Static Control
A 4" space under the HEPA filter accommodates optional ionizing equipment for complete static safety.
An ionizing bar houses nozzles that emit balanced streams of positive and negative ions downward to safely neutralize any static imbalances that may exist in the work area.
---