Wet Processing and Cleaning Stations
Product Announcement from Terra Universal, Inc.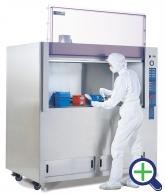 Versatile Wet Cleaning Benches & High-Purity Chemical Processing Systems
Terra's Modular Wet Processing and Cleaning Benches provide economical solutions for acid etching, semiconductor wafer processing, chemical rinsing and drying, and other wet chemical processes. Their modular, ergonomic bench top design allows flexible configuration of wet processing modules, maximizes purity, and minimizes the threat of chemical carry-over and wafer contamination during wafer rinsing. Simply select the wet processing station design that works best for your application from a complete line of modular wet benches or fully enclosed wet processing cabinets and laminar flow hoods. Then, select the process baths, cascade or overflow rinsers, and other equipment. Terra will configure a complete, turnkey system, ready for operation.
---