Compact, low pressure diaphragm regulator
Product Announcement from Emerson Automation Solutions – TESCOM Regulators, Valves & Systems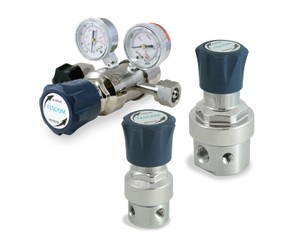 TESCOM™ SG Series - compact, lightweight, high purity regulators for specialty, flammable and industrial gas flows. Sensitive, extra long-life metal diaphragm ensures gas purity and integrity. User-friendly model number enables the specifier to select optional gauges, relief and shut-off valves, and cylinder connections as part of the regulator assembly.
Applications:
Laboratory and Point-of-Use Gas Systems in medical, pharmaceutical, food and beverage and other high purity applications
SG1 and SG2 Series: Process analyzer gases, metal fabrication and specialty and industrial gas cylinders
SG3 Series: High flow, high purity air (CDA and APR) in semiconductor and biotech facilities
Features and Benefits:
The SG Series' extra long-life 316 Stainless Steel diaphragm ensures gas purity and regulator durability
An optional neoprene diaphragm provides exceptional sensitivity for precise pressure control
The regulator seat is protected from gas stream impurities with a 10 micron filter, providing for longer service life
A simple valve cartridge design with integrated filter makes for fast and simple maintenance using standard tools
Can be ordered with accessories configured and installed for ease of installation and fast start up
SG Series regulators are CGA E-4 compliant and exceed stringent industry standards for robustness and extended service life
Click the links below to view the product pages.
• SG1 Series
• SG2 Series
• SG3 Series

Click here to view the SG product brochure.
---