3-way Thermostatic Mixing and Diverting Valves
Featured Product from ThermOmegaTech®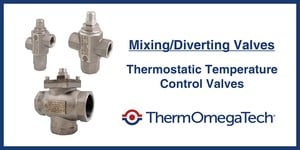 ThermOmegaTech®'s M/D temperature control valve is designed for 3-way mixing or diverting applications. For fast response, the valve is compact and low mass. ThermOmegaTech®'s valves are designed around our exclusive Thermoloid® sensor/controller that automatically and accurately proportions the flow in response to fluid temperature. The Thermoloid® sensor/controller is the most advanced and reliable thermal actuator of its type available today.
For mixing applications, the M/D will proportion the flow from two inlet ports to produce the desired outlet port temperature. For diverting applications, the M/D will divert or switch the inlet flow to either of two outlet ports depending on the fluid temperature.
Completely self-actuating, these mixing and diverting valves require no external power source to operate simplifying installations and reducing costs. The mixing and diverting valve's compact design and fast response time to fluctuations in a narrow temperature range make it a foundational component in any industrial application.
Available standard in bronze and stainless-steel housings with NPT sizes from 1/2″ to 2″. Customized wide temperature range, materials, and port positions available upon request. Adjustable and pre-calibrated models are also available.