Guaranteed Drain Effluent Compliance with the DTV
Featured Product from ThermOmegaTech®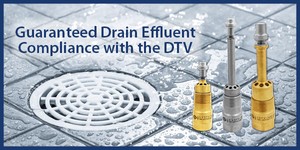 Drain water from commercial equipment exceeding the 140°F cut-off point can significantly impact a business' operations due to failed inspections, fines, and damaged PVC piping.
To simplify compliance with international plumbing codes governing effluent flow, ThermOmegaTech offers the drain tempering valve (DTV). Compact and effective, the DTV is 100% self-operating and is incredibly easy to install on new or pre-existing commercial equipment set-ups.
The DTV is installed into the equipment's drain line so the hot effluent flows over the valve's thermal actuator, with a cold water supply on the valve's inlet. While there, the DTV continuously monitors effluent temperatures.
When the effluent's temperature reaches the DTV's set-point, the valve will automatically open to mix in cold water and temper down the effluent into compliance range.
Once the effluent temperature has fallen to the DTV's set-point, the valve will shut off the cold flow to conserve water.