Innovative Washdown for Maximum Sanitation
Featured Product from ThermOmegaTech®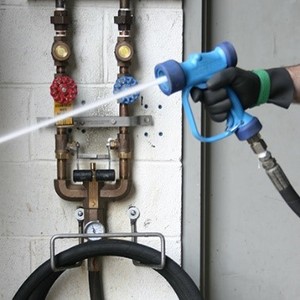 ThermOmegaTech®'s innovative washdown systems include a variety of high-temperature sanitation and maintenance equipment necessary for industrial facilities. This includes steam and water washdown stations, hot water mixing stations, washdown guns, washdown hoses, and to guarantee organization and security of equipment – washdown enclosures.
The ThermOmegaTech® STVM® Washdown Station is used in food processing, dairy, breweries, wineries, chemical, petrochemical and pharmaceutical facilities where a high temperature wash down is required.
The STVM® station is designed to provide a steady stream of instant hot water by utilizing its proprietary mixing valve to combine steam and cold water at a user set temperature. Intuitive opening and closing valve throttles essentially eliminate the 'hose full of steam' problem of the past.
The unique Venturi mixing technology featured in the station quietly combines the supplied steam and cold water, reducing worker stress and promoting overall workplace safety. As the flow of steam and water enter the thermostatic mixing valve, a scouring action occurs that minimizes the buildup of minerals and reduces build up in tight clearance areas. This ensures long, uninterrupted use and silent operation, even in high mineral content water conditions.
Designed to expedite routine maintenance with minimal downtime, the STVM® features an interchangeable cartridge to easily service the station in the field. Simply unscrew the cartridge with a standard wrench, put in a new cartridge, and the unit is up and running in minutes.
The simplistic and cost-effective HCX Washdown Station, designed to maintain production facility sanitation for those without an available steam supply, delivers a high-powered wash by instantaneously mixing hot and cold water to the desired proportion.
For single channel washdown stations, the HCS washdown station provides a single stream of hot or cold water for washdown applications.