Custom Etched-Foil Heater For Laboratory Solutions
Product Announcement from Thermal Circuits, Inc.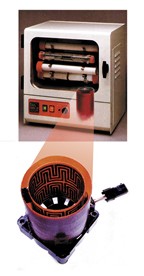 Thermal Circuits' QMS is registered to ISO 13485:2003. A World Class Supplier of critical componentry, Thermal Circuits is a 64-year-old custom heater specialist designing, engineering, and producing etched foil element surface heaters, air heaters, molded heaters, infrared heaters, and heater assemblies.
Case Study: Convection for heat cure in Medical/Lab applications.
Thermal Circuits Inc is a manufacturer of surface heaters, air heaters, molded heaters, heater assemblies, and infrared panel emitters. We service a wide variety of markets and geographic areas and, through continuous quality improvement, strive to maintain world-class leadership in all aspects of our business.
"Firsts" from Thermal Circuits continued during the 1970's and 1980's. We designed, prototyped and produced heaters and assemblies for the first etched foil-heated cafeteria food service stations, infant incubators, hospital warming cabinets, automobile side-view mirrors, kitchen electrics(mini-skillets, deep-fat fryers), and personal care appliances(mist hair setters, styling wands).
This growth prompted the construction in 1996 of a single-storied, 52,000 square foot building and remains Thermal Circuits' home. Still in Salem, the company is owned by its corporate partners and is the anchor company in a newly-developed industrial park. This facility is state-of-the-art and second to none. Due to continuing growth, in 2017 and 2018 Thermal Circuits expanded its manufacturing and office spaces to 88,000 square feet.
A "solution" designer and manufacturer of custom, etched foil heaters and assemblies, would welcome the opportunity of creating an affordable heater designed to your application's requirements.
Our core competencies for these conductive, convective and radiant heaters include:
Application Engineering that is responsive and experienced. You can be assured that we will provide an optimal, reliable solution. Let us help you turn your company's opportunity into a competitive advantage.
Thermal Uniformity is attained by varying the heater's watt density, thereby, compensating for heat losses.
Thermal Responsiveness is a function of the heater's low mass. Heating and cooling are virtually instantaneous.
Repeatability through Thermal Circuits' photo etch process that sustains part-to-part consistency.
Innovative Manufacturer

Recognized for using the broadest range of materials
Dielectrics compatible with integration and challenging environments.
Element/alloys developed for increased capabilities and lower costs.

Integrated Sensors

Thermistors, RTDs, semiconductor-type, thermocouples, thermostats and thermal fuses.

Turnkey Assemblies

Metalwork, heat sinks, wire harnesses and flex circuits.

Space and Weight Efficient
Energy Efficiency

70% of the surface area is covered with an active element. This enables the element to run cooler and with longer wavelengths of light, which transfers heat more effectively.
The etched foil element's inherent low mass has less thermal inertia, which enables lower operating costs.
Industry Market Applications:
Quality is paramount at Thermal Circuits. We are a certified manufacturer of critical components and an approved ship-to-the production line, zero defect supplier. Our contractual customers perform no incoming inspection of our heaters and heater assemblies. Thermal Circuits' Quality Assurance Department is equipped, staffed, and administered to the requirements of MIL-1-45208A to which we are approved by major subcontractors.
The Quality Management System of Thermal Circuits has been audited and is compliant with the requirements of and is registered to ISO 13485:2003.
---