Etched Foil Heaters Conform To Irregular Shapes!
Product Announcement from Thermal Circuits, Inc.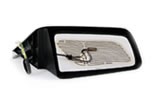 Flexible Heaters-Custom Materials
Flexible Heaters from Thermal Circuits are light, bendable and can conform to irregular shapes, contours and 3-dimensional patterns. They are simple to apply, yet are capable of higher output than traditional metal-clad heaters.
About Thermal Circuits:
Thermal Circuits Inc. is a manufacturer of surface heaters, air heaters, molded heaters, heater assemblies, and infrared panel emitters. We service a wide variety of markets and geographic areas and, through continuous quality improvement, strive to maintain world-class leadership in all aspects of our business.
Firsts" from Thermal Circuits continued during the 1970's and 1980's. We designed, prototyped and produced heaters and assemblies for the first etched foil-heated cafeteria food service stations, infant incubators, hospital warming cabinets, automobile side-view mirrors, kitchen electrics(mini-skillets, deep-fat fryers), and personal care appliances(mist hair setters, styling wands).
This growth prompted the construction in 1996 of a single-storied, 52,000 square foot building which is Thermal Circuits' new home. Still in Salem, the company is owned by its corporate partners and is the anchor company in a newly-developed industrial park. The new facility is state-of-the-art and second to none.
Industry Market Applications:
Flexible Heaters - Custom Materials:
Kapton® and Other Polyimide Heaters:
Silicone and Other Rubber Heaters:
---