3-pass Fired Heater. Konus KV-KH Series
Featured Product from Thermal Fluid Systems, Inc.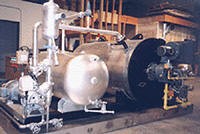 Gas, oil or waste fuel-fired thermal fluid ("hot oil") heating systems provide high efficiency and low pressure operation for temperatures up to 750°F (399°C). Standard designs come in both horizontal and vertical configuration ranging from 500,000 to 50 MM BTU/hr. Our 3 pass dual helical coil design heater can be skid-mounted and customized to meet your exact requirements with standard efficiencies up to 90 % (LHV), or higher with heat recovery.
Crude oil heaters engineered for refineries and oil production facilities globally. Heat absorbtion duties range from 20 to 380 MM BTU/hr. The designs represent heater styles that include multi-zone horizontal cabins, vertical cylindricals, and convection boxes. Depending upon feed conditions and outlet requirements, a variety of coil metallurgies may be used, and process flow through the heater may be upward or downward. Every unit is custom-engineered and fabricated to API Standard 560.