Thermal Fluid Filtration Systems
Product Announcement from Thermal Fluid Systems, Inc.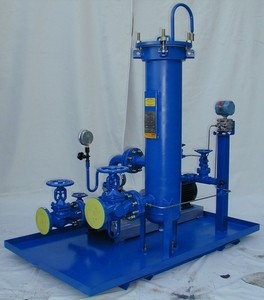 Thermal fluids degrade in two ways - by thermal breakdown and oxidation. The former can cause fine, abrasive particles to circulate in the system, the latter can lead to sludge. These products collect in pump seals and valves, causing maintenance problems and breakdowns, and can build up on heating surfaces, lowering efficiency. Many system problems can be reduced by adding a TFSS continuous filtration system.
Benefits of filtration:
Operating & maintenence cost savings
Fewer pump failures
Reduced fluid viscosity
Reduced fouling in heater and users
Less frequent fluid replacement
---