Thermal Fluid Heater w. Steam Generation System
Product Announcement from Thermal Fluid Systems, Inc.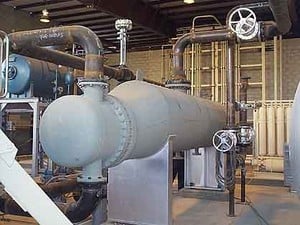 Steam Generators
TFS can engineer and supply specialized skid mounted units that incorporate stringent controls and redundant safeties to produce steam with an unfired heat exchanger at the volume and pressure needed for your application. In most states, the use of an unfired system such as this eliminates the requirement for a boiler operator.
A thermal fluid heater with an integrated steam generation system can be used in applications such as textile, chemical or wood product plants where high temperature thermal fluid is needed to heat the process and there is an additional requirement for plant steam.
Thermal fluid ("hot oil") heating systems are used in many industrial applications where efficiency and accurate temperature control between 300 deg F and 750 deg F are required. TFS has many years experience in this field and we offer a broad range of products, service and support.
TFS can supply:
Konus fuel fired (gas, oil or waste fuel) thermal fluid heaters and complete systems from 0.5 to 50+ million Btu/hr.
electric hot oil heaters from 10 kw to 5+ MW
hot oil / thermal fluid filtering systems
hot oil / thermal fluid pumps, valves, controls, tanks
hot oil / thermal fluid heating & cooling loops
heat recovery systems
parts for hot oil pumps, hot oil valves, burners and controls
field service, annual inspections, start up and engineering consultation
---