Thermal fluid, steam, and glycol process skids
Product Announcement from Thermal Fluid Systems, Inc.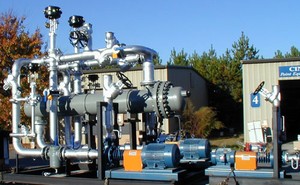 Design & Supply of Thermal Fluid, Steam & Glycol Process Skids
Thermal Fluid Systems, Inc. offers custom design of thermal fluid, steam, and glycol process skids, providing heating and cooling operations and accurate control of temperatures to ± 1°F (0.5 °C). Heating media includes thermal fluids such as chevron, dowtherm, essotherm, texatherm, and therminol among others, along with steam and glycol. Cooling media includes water, chilled water, air, and other methods. The process skids are composed of controls, secondary loops, pumps, and valves. Customers can choose from field installation or pre-built assembly, as well as customized mounting or completely skid mounted units.
All custom engineered process skids are built to exacting standards, upholding the rigorous industrial regulations for quality and functionality. Our designs are flexible, meeting the particular specifications for customer applications. All products uphold the rigorous standards of quality and performance set by industry regulatory boards including ASME, FM, and ASI, along with our internal quality assurance protocols.
Thermal fluid ("hot oil") heating systems are used in many industrial applications where efficiency and accurate temperature control between 300 deg F and 750 deg F are required. TFS has many years experience in this field and we offer a broad range of products, service and support.
TFS can supply:
Konus fuel fired (gas, oil or waste fuel) thermal fluid heaters and complete systems from 0.5 to 50+ million Btu/hr.
electric hot oil heaters from 10 kw to 5+ MW
hot oil / thermal fluid filtering systems
hot oil / thermal fluid pumps, valves, controls, tanks
hot oil / thermal fluid heating & cooling loops
heat recovery systems
parts for hot oil pumps, hot oil valves, burners and controls
field service, annual inspections, start up and engineering consultation
---