Waste Fuel Fired heaters and systems
Featured Product from Thermal Fluid Systems, Inc.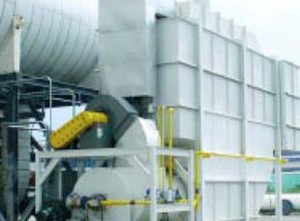 Design & Supply of High Efficiency Thermal Fluid (Hot Oil, Dowtherm) Heating Systems
Thermal Fluid Systems, Inc. is proud to offer the custom design and supply of high efficiency thermal fluid (sometimes called hot oil or Dowtherm) heaters and systems. The heaters and systems can be:
Gas Fired
Oil Fired
Waste Fuel Fired
We build our thermal fluid heaters utilizing a high efficiency three-pass design for even temperature distribution. Compatible fuels include natural gas, propane, biodiesel, fuel oil numbers 2, 4, and 6 and Bunker C oil, waste liquid & gas products; can also run on electricity. Horizontal or vertical configurations are available, as are stand-alone or skid mounted units. Components include a 3 pass dual helical coil heat exchanger, specially designed isolation valves, pump, pump strainer, degasser, burner, expansion tank, safety controls and temperature blocking vessel. Optional features include a drain tank and secondary heating controls. Our process heaters are designed for outdoor and indoor applications, with an output range of 0.5 to 50,000,000+ BTU/hr and up to Up to 90%+ (LHV) efficiency.
Maintenance plans are available, and we also offer inspections and operator training. All of our hot oil heaters and heating systems are built tailored to customer specifications and applications and uphold the standards set by organizations including ASME, API, USCG, ABS. The NEMA ratings 1, 3R, 4, 4X, 7, and 12 are also maintained. For more information about our custom designed high efficiency thermal fluid heaters and heating systems or our other capabilities, please see the table below or contact us directly.
Thermal Fluid Heating Systems - Applications & Advantages
There are many ways to indirectly heat substances, and one of the foremost is through the use of a thermal fluid system, also known as a thermal oil heater. In fact, many industrial companies have turned to thermal fluid heating or hot oil heating because of the various advantages it offers over other heating systems. Here is some information on thermal fluid systems.
What is a Thermal Fluid System?
As touched upon, a thermal fluid system is a closed looped system in which a fluid – most commonly oil – is used to heat the desired substance indirectly. The fluid within the system can be heated in several ways, and a few of the most common is through electrical power, coal, and even oil. Once the fluid within the thermal system has reached a specified temperature, the heat will be transferred to the end target.
Advantages of Thermal Fluid Systems
There are numerous advantages to using hot oil heating systems, and the foremost of these is their ability to control the temperatures of other fluids used in processing indirectly. This power to change certain temperature aspects is especially important in systems where there is the necessity for finely tuned temperature control. The fact that the thermal system operates by heating fluids also give it the advantage of being able to time the heating of the end target precisely.
Also, thermal systems can maintain high temperatures for extended durations, while at the same time operating at low pressures. This low-pressure operation significantly increases the level of safety for those that are working near the unit. Furthermore, these systems are known for being very reliable, due to their simplistic, yet rugged design. This longevity of the system can help industrial companies save a lot of money by not having to replace the unit after a few years, as is the case with other similar heating systems.
Thermal Fluid Applications
The number of applications in which a thermal fluid heater can be used is nearly endless. Some of the most widely used applications are in the heating of fryers, process reboilers, and convection ovens. Often an electric heating system is preferred because it does not have any harmful emissions, such as carbon dioxide or nitrous oxide, which are common byproducts when using coal generated heat. Therefore, they are much safer, and not only this, but they are very efficient as well.
Here for ALL your Thermal Liquid and Hot Oil System Needs
When it comes to heating process fluids, few methods offer the advantages of thermal fluid systems. By implementing this type of a system, the temperature of the end product can be finely tuned, and the heat can be applied at a precise moment, allowing for extreme control. Not only will this but the low pressures that the thermal system operates on means that employees be much safer when working in the vicinity of the unit.
There are dozens of uses for this type of fluid heating system, and some of the most popular are in convection ovens and liquid tank heating. TFS is here to help you find the ideal solution to help your production or business run efficiently; request a quote on any of our heating systems or contact us today with any of your questions!
Follow us on:
Watch>>>Thermal Heating & Customized Solutions | Thermal Fluid Systems, Inc.
Thermal Fluid Systems Specializes in Customized Thermal Fluid, Hot Oil & Thermal Liquid Heating Systems
Thermal fluid ("hot oil") heating systems are used in many industrial applications where efficiency and accurate temperature control between 300 deg F and 750 deg F are required. TFS has many years experience in this field and we offer a broad range of products, service and support.
TFS can supply:
Konus fuel fired (gas, oil or waste fuel) thermal fluid heaters and complete systems from 0.5 to 50+ million Btu/hr.
electric hot oil heaters from 10 kw to 5+ MW
hot oil / thermal fluid filtering systems
hot oil / thermal fluid pumps, valves, controls, tanks
hot oil / thermal fluid heating & cooling loops
heat recovery systems
parts for hot oil pumps, hot oil valves, burners and controls
field service, annual inspections, start up and engineering consultation
Replacement Parts & Service
Thermal Fluid Systems, Inc. offers experienced personnel for technical support by phone and fax, and also on-site troubleshooting, maintenance and start-up, for Konus and other brands of thermal fluid heating systems. TFS can also service and support other brand heaters such as Eclipse, First Thermal, Geka, GTS Energy, Bay, Fulton, Heatec, HTT, Wellons, Vapor, and more. We carry a stocking inventory for many different brands of components used to make up a complete heating system.